We are former fulltime RVers, who lived and traveled in a fifth wheel trailer for six years and now have settled on a cherry farm in Northwestern Michigan's Leelanau County.
About Me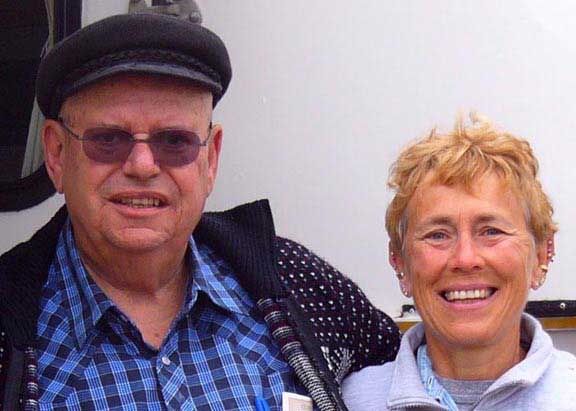 Cedar, Leelanau County, Michigan (near Traverse City), United States
I am a 76 year old (born 7/4/1937) retired Public Radio Engineer from Lawrence University in Appleton, Wisconsin. Happily married to the love of my life, Teddy (nee Teddy Schlueter). Teddy is a retired Medical Records Clerk from Theda Clark Hospital in Neenah, Wisconsin. Two children, Michael and Lon. Lon passed away in 1994. Michael is married to his wonderful wife, Toni and lives in Appleton, Wisconsin. For photos click on link below or visit our photo site http://www.flickr.com/photos/igboo NOTE: Click on photos for full-size images.
View my complete profile

Sunday, June 28, 2009
Painting the porch and adding shutters has really dressed up the place.
Whaddya' think?
Posted by

Larry & Teddy
at 8:13 PM
4 comments


Tuesday, June 23, 2009
Teddy and I are moving part-time into the farmhouse on the Schlueter Cherry Farm here in Leelanau County, Michigan. Teddy's brother,
John
has his own house across the road and her sister,
Deb
lives just three miles from here. In fact the backyard of Deb's is where we have parked our trailer summers since 2005 when we first started fulltiming. So, as the farmhouse was going to be vacant, Teddy and I have decided to make it our summer home. I guess this means that we will no longer be official fulltimers but 3/4 timers instead.
The house has been in the Schlueter family for over three generations and dates back over one hundred years. Somewhere within the walls is an original log cabin, long ago covered up and encased within the walls of the current house. This is Teddy's girlhood home where she grew up so it's sort of a homecoming for her.
The house though, needs a lot of work and TLC to bring it up to modern standards. Teddy's father and grandfather before him, being the thrifty German farmers that they were, were loath to spend any money on improvements that they considered unnecessary, instead investing their profits into improving farm production. We have been hard at work for the past two weeks, cleaning, sanding, painting, wiring, and plumbing. We still plan on redoing the bathroom this summer and perhaps the kitchen next summer.
On the outside the house looks pretty good. Has vinyl siding and a fairly new roof. Next week I intend to enhance it's curb appeal with shutters on all of the windows.
There is approximately an acre of grass to mow surrounding the house and to that end we have purchased a
John Deere
garden tractor/mower. As I have often said, "As long as I can keep Teddy working, I intend on furnishing her with the very best tools available." ;-)
Posted by

Larry & Teddy
at 6:02 PM
1 comments


Wednesday, June 10, 2009
We left Bend, Oregon on Thursday May 28 as Teddy's mother entered the terminal stage of her life in Michigan, and passed away on June 5. She was 93 years old and had been suffering from heart disease for some time. The funeral was yesterday, June 9 and we are slowly getting back to normal. We intend to stay here in Cedar, living in the farmhouse till late August when we will head back to Pahrump, Nevada where we have reservations for September and October. Our trip east was fraught with difficulties as we had two tire blowouts on the trailer on consecutive days. To complicate problems even more they both occurred in sparsely populated areas of Montana and on a weekend (Saturday and Sunday). I guess the old adage "When it rains it pours" is true, at least in our case. As the ancient Greeks would say, "The Gods on Mount Olympus were having fun with us poor mortals again."
Here is what a tire looks like when it goes flat and shreds at highway speeds.
...and here I am on Sunday sitting in a camper chair trying to contact a tire dealer. The cell reception was so bad that I had to climb to the top of this hill to make a connection. The second tire failure was on Sunday and since I no longer had a spare, we had to wait about four hours to finally get someone to come out and mount two tires. I have Good Sam's road service which worked on Saturday but on Sunday they were having trouble finding help but promised to reimburse me for anyone that I could find. Finally a local sheriffs deputy got a tire guy to come out for us. In the meantime Teddy and I just sat and read books.
Posted by

Larry & Teddy
at 5:55 AM
4 comments